Healthy Balance ab Mai 2017 neu im Medical Fitness Konzept by Shape up
Individuelles Ernährungskonzept trifft auf Shape up
Die Suche nach dem idealen Partner
Als Master of Advanced Studies in Nutrition and Health ETH Zürich war ich ständig auf der Suche nach einem idealen Konzept, das sich mit meinem Know how und meiner Philosphie vereinbaren lässt. Ihr könnt Euch gar nicht vorstellen wie viele Vertreter mich in den letzten Jahren kontaktiert haben. Einige haben es sogar bis zu mir ins Studio geschafft, um mir Ihr Produkt "schmackhaft" zu machen. Doch immer störte mich etwas, sei das das kommerzielle Marketing, das überteuerte Produkte an Mann und Frau bringen will, das Fehlen wissenschaftlicher Grundlagen oder die Einseitigkeit und Abhängigkeit der ach so guten Konzepte. Ja, ich bin ein sehr kritischer Mensch und was ich meinen Kunden weitergebe, muss auf Herz und Nieren geprüft sein und meist im Selbstversuch ertestet.
Mit Healthy Balance habe ich nun mein Ernährungskonzept gefunden, das ich mit Überzeugung bei meinen Kunden anwenden kann.
Warum hat mich dieses Konzept überzeugt?
Kombination von verschiedenen Ernährungsansätzen
Healthy Balance vereint Erkenntnisse der Regulationsmedizin mit verschiedenen Ernährungskonzepten
Es ist eine Kombination von:
Metabolic Typing
Epigenetik
Genetik
PNI: Psycho-Neuro-Immunologie
Regulationsmedizin
Ketogen
Ernährungspsychologie
Low Carb
Naturheilkunde
Bietet für unterschiedliche Zielgruppen ein Lösung
Healthy Balance hat für verschiede Zielgruppen ein passendes Ernährungsprogramm.
Nicht nur für die "Schnell-Abnehm-Willigen" sondern auch für gesundes, nachhaltiges Abnehmen, für Entgiftung, für Sportler und für Leute die Zunehmen möchten. Gerade der Gesundheitsaspekt ist für mich von Zentraler Bedeutung.
Ideale Ergänzung zu meinem eigenen Konzept
Dieses Konzept kann man ohne zusätzlichem Coaching von Shape up durchführen, lässt sich aber wunderbar mit meinen ergänzenden Angeboten kombinieren, um den Erfolg noch weiter voran zu treiben und den Menschen als ganzheitliches Wesen gesundheitlich zu optimieren.
Machbarkeit- Kombinierbarkeit – Unabhängigkeit
Die Programme von Healthy Balance sind alltagstauglich und sozialverträglich. Sie bieten mir die Möglichkeit mit einfachen Tests einen individuellen Ernährungsplan zu erstellen.
Healthy Balance Programme von Shape up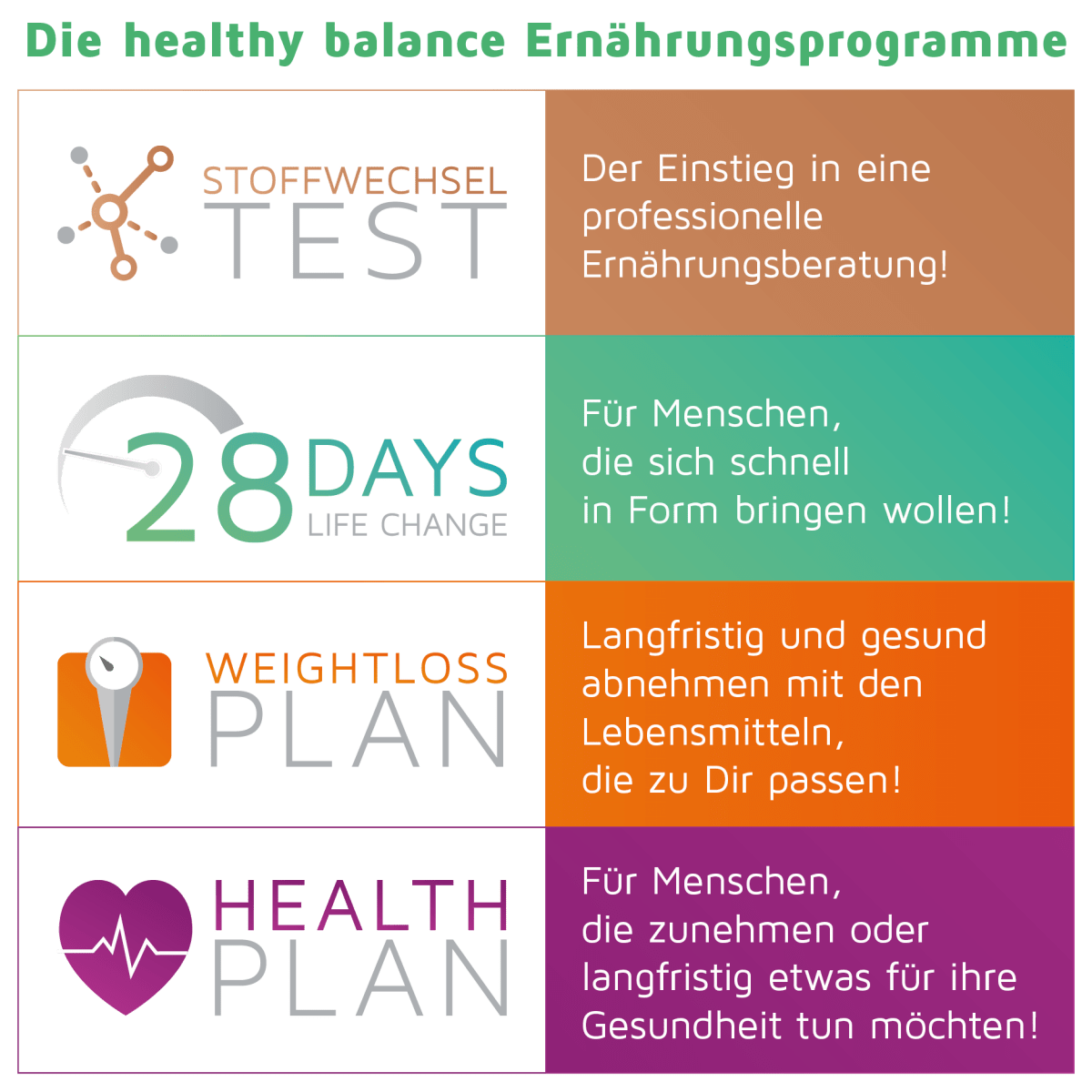 Stoffwechseltest
Mit dem Stoffwechseltest ermitteln wir Deinen Stoffwechselverbrennungstyp und bestimmen den neuartigen "Metabolischen Index", der Auskunft gibt über das Erkrankungsrisiko bezüglich Metabolischem Syndrom. Die Resultate sind die Grundlage für die weitere Beratung.
Spezialpreis der Healthy Balance Programme
Ab Mai 2017 starte ich mit dem Healthy Balance Ernährungskonzept. In der Einführungszeit bis Ende Juli 2017 kannst Du von den Sonderkonditionen profitieren. Die ersten 10 Klienten erhalten ein zusätzliches Geschenk.
| | | |
| --- | --- | --- |
| Angebot | Einführungspreis bis Juli 2017 | Preise ab Aug 2017 |
| Stoffwechsel Test | 25.- | 60.- |
| 28Day Life Change | 430.- | 499.- |
| Weightloss Plan | 330.- | 399.- |
| Health Plan | 299.- | 349.- |
Für bestehende Klienten und solche, die parallel ein ergänzendes Coaching-Programm bei mir machen, gewähre ich einen Rabatt von 15%.
Pack die Gelegenheit beim Schopf – Vereinbare noch heute Deinen Stoffwechseltest-Termin
Anmeldung direkt über www.shape-up.ch oder per Telefon.
Ich freue mich auf Dich!
Mit sportlicher Begeisterung
Karin – Your personal Health Coach